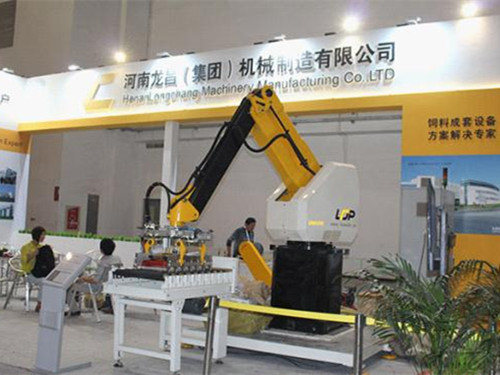 With the official launch of the "Made in China 2025" program of action, the "machine-for-machine" movement continues to emerge throughout the country, and industrial robots such as palletizers have ushered in a period of great opportunities for development. At the same time, the domestic palletizing industry has also leaked many problems and gradually moved toward the crossroads of development. How to get out of the domestic piling machine industry development but not a strong predicament? The industry leader Brand Le Pu gave the answer. In recent years, relying on its own R&D and integration services, the company has developed a new model of development in the field of palletizing machines and attracted the attention of people in the industry.

"Machine Substitution": Palletizing Machine Industry Welcomes Spring

From 2010, the number of laborers in China has been declining for four consecutive years, showing a state of supply in short supply. The phenomenon of "labor shortage" has been staged in many places. The reduction in the number of laborers has also directly led to an increase in the cost of labor. Statistics show that from 2000 to 2013, China's wages grew by an average of 11.4% per year, which is significantly higher than in most countries in Southeast Asia and Eastern Europe, and the manufacturing cost is almost equal to the United States.

In this context, the traditional manufacturing enterprises in the Pearl River Delta, Yangtze River Delta and other regions began to try to replace artificial labor with industrial robots to achieve "machine substitution" to solve the problem of labor reduction and rising labor costs. Especially in the areas of high repetition coefficient, labor intensity, and high risk of handling, palletizing, etc., the application of industrial robots has become more popular, which has brought great opportunities for the development of domestic robot manufacturers such as Leopard.

It is reported that at the beginning of this year, the province of Guangdong, a major province of manufacturing, made it clear that it must accumulate 1950 industrial enterprises above designated size to carry out "machine substitution" within three years. Local governments are also actively promoting similar measures. It can be said that palletizing robots used in many fields have ushered in a beautiful spring.

Crossroads: How the Palletizing Machine Industry Goes

The widespread development of "machine substitution" not only helps to achieve self-salvation of Chinese manufacturing, but also directly promotes the rapid development of China's industrial robot industry. The number of production palletizing robot companies has soared.

However, insiders in the industry told reporters that the domestic market for palletizing machines is active on the surface, but there are actually many problems inherent in it. At present, the domestic palletizer market is still dominated by foreign brands, and only a handful of real Chinese manufacturers can make it. At the same time, due to the lack of technological research and development, there is still a large gap between domestic palletizing machines and international brands.

Some experts further pointed out that at present, 95% of China's robot companies take the development mode of purchasing foreign parts for system integration. The domestic robot companies focus on the situation of robot system integration, which is not only unfavorable to our country's robot industry becoming bigger and stronger, but also not conducive to reducing the price of industrial robots, helping more small and medium-sized enterprises to achieve "machine substitution" and transformation and upgrading.

How to get out of the difficult situation of the development of the domestic palletizing machine industry and not be strong has become a problem that domestic palletizing companies need to seriously consider.

Going out of the predicament: the model of happy servant develops and develops new road

Faced with a big but not strong situation, how does the stacking machine industry break? Industry leader brand Le Pu gave his answer. According to report, as early as in 2011, Longchang Group was keenly aware that there was huge market space for palletizing robots in China. In 2012, Henan Longchang Group and the British LOP Industrial Automation Co., Ltd. signed a strategic cooperation agreement, introducing the leading technology of LOP, On this basis, Longchang Group developed and manufactured palletizing robots adapted to the Chinese market according to the needs of the Chinese industrial market, and established Henan Lepu Industrial Automation Co., Ltd. in 2014.

It is not too early for the music player to start, but it is a dark horse in the industry. It has not only reached cooperation with many famous enterprises such as domestic glutinous starch, Jinlongquan beer and chestnut garden drinks, but also exported to the United States, Canada, Singapore and other places have rapidly developed into industry leading brands. "The key to the rapid development of the music and pawn machines is to have the core technology and to produce high-quality and high-quality products," said Wu Changming, general manager of Henan Le Pu Company.

After continuous technical research and operation and debugging, the speed of the palletizer reached 1,140 times per hour, and this speed has reached the international advanced level. At the same time, it also adopts the world's first PAD graphic operation interface and graphical interface control to make the operation more convenient. At present, the music has been widely used in feed, fertilizer, grain and oil, starch, flour, beverages and other industries.

As the only hopper integrator with production capacity in China, Le Bao is not only developing and manufacturing high-quality palletizing robots, but also the most complete system integration service provider.

Not only can the servants be equipped with grippers of different shapes and differently designed conveying lines for the robot body, but they also strive to build the concept of "puppy supermarket". At present, the music servants have reached strategic cooperation with Swiss ABB, German KUKA, and Kawasaki of Japan, and are fully responsible for distributing these international brands of palletizing robots to maximize the full range of demands in the domestic market.
ThermicTransfer has 14 years of experience in R&D and production of engine radiators. The long-term cooperation engine brands are Yanmar/Cummins/Deutz/Perkins/Kubota/Isuzu/Mitsubishi/MTU. Our experience is based on the engine power provided by the purchaser. Performance curve, single heat dissipation or multiple combined heat dissipation requirements, we simulate the calculation of heat dissipation requirements, and design a three-dimensional cooler solution according to the engine size combined with the installation environment, provide customers with three-dimensional model confirmation, and provide performance parameter reports through simulation calculation. Finally, according to the customer's suggestion to adjust and optimize, form an effective program. We will then provide samples for performance testing, mass production through long-term performance, stress testing, resistance testing, etc.


At present, we design up to 5 combined Heat Exchangers for construction machinery, including two oil coolers, water cooler, Intercooler, and fuel heat exchanger.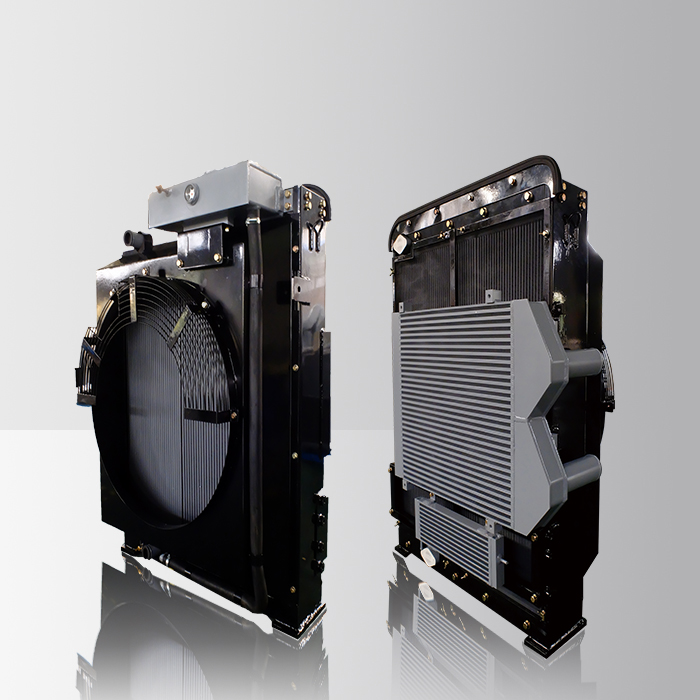 Engine Heat Exchanger,Marine Engine Heat Exchanger,Marine Heat Exchanger,Fireplace Heat Exchanger
Xinxiang Zhenhua Radiator Co., Ltd. , https://www.thermictransfer.com