Recently, Zoomlion's off-road tire crane RT60 started from Changsha and successfully delivered to Qinhuangdao, Hebei. As a member of the mobile wheel crane family, off-road tire cranes are increasingly attracting the attention and favor of domestic customers. It is understood that Zoomlion's off-road tire cranes have achieved good market performance overseas, and the delivery of domestic customers also indicates that it will become a "new force" to ignite the domestic market.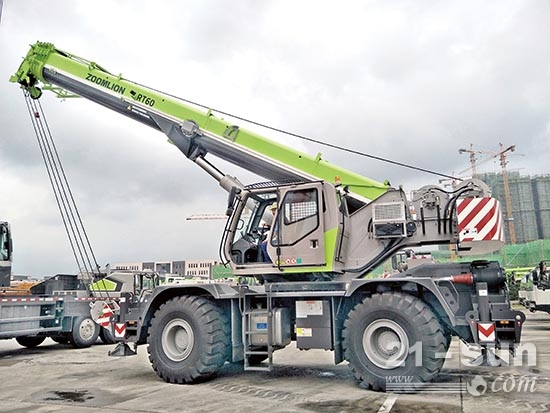 RT60 off-road tire crane successfully delivered to Qinhuangdao customers
Off-road tire cranes were first popular in North America, and Japan was once the largest market for off-road tire cranes. Today, its main users are concentrated in Europe, North America, in the Middle East, Africa, and are widely used in construction sites, bridges, field oil fields, warehouses, freight yards, ports, open pit mines, pile machine testing, logistics bases, and urban center sites. The place of gold. Off-road tires have powerful off-road performance, heavy-duty driving, four-wheel steering and other operational capabilities, making them play an important role in small, rugged and restricted construction sites.
It is understood that Zoomlion's off-road tire cranes are exported to overseas markets all the year round. With the continuous acceleration of urbanization in China, in recent years, tire cranes have also begun to gain the favor and attention of domestic customers. At the beginning of 2018, the Hebei regional sales team introduced the RT60 of Zoomlion's off-road tire cranes to customers by deepening the market and understanding the actual needs of customers. In the end, Zoomlion won the competition from many well-known competing products with excellent quality, stable product performance and timely service, and successfully won the bid.
According to Zoomlion's product manager, the off-road tire crane RT60 has a global top-level configuration, 5-section boom U-section, comprehensive lifting capacity superior to the industry's same tonnage grade products, with super-loaded driving capability. The advanced bus control system, configuration fault and safety sound and light alarm device can ensure the safe and efficient operation in real time, and it is the star product in the off-road tire crane.
Before the product was delivered, Zoomlion Engineering Crane Company actively communicated with customers, dispatched technicians to Qinhuangdao for product technical exchange Q&A, and systematically trained customers' operation and service personnel. At the same time, after the equipment was delivered, the professional service engineers were arranged to carry out a one-week follow-up training. In the process of using the equipment, the customer was trained in operation skills, operational norms, crane safety, equipment maintenance and basic maintenance. Customers are impressed by the precise and perfect service.
The relevant person in charge of Zoomlion said: "The current market for tire hoist products is still in the stage of development and cultivation in China, and the follow-up potential is huge. I believe that with the continuous deepening of domestic infrastructure and the development of the tire hoisting market, it will have a wider domestic market. Market space." (This article is from Zoomlion)
Related News: Zoomlion Crane Delivery
Stainless steel material is the short name of rust-proof acid-proof steel. It is called stainless steel for weak corrosive medium such as air, steam and water.Most products require good welding performance of raw materials, such as second-class tableware, thermos cups, steel pipes, water heaters and water dispensers.
Stainless steel machining parts be use of cnc machining out, including: drilling, boring, cutting, turning, screw. Product material are:stainless steel(303,304,316,316L,etc).In the high-speed machining out of the workpiece has a good finish. cnc machining products surface treatment haslaser engraving LOGO, powder coating,brushing, rolling flower, according to the special requirements of the drawings.We have a special inspection department to carry out inspection, to ensure that each size of products meet the requirements of the drawings,CNC Machining Parts is the most common in mechanical processing, low density, not easy deformation, high precision products. So it is widely used in various industries.
Cnc Machining Stainless Steel Parts
CNC Machining Stainless Steel Parts,Stainless Steel Screws ,Stainless Steel Machine Screws,Anodizing CNC Adjustable Mounting Bracket
YaoPeng Metal Products Co., Ltd. , https://www.ypmfg.com