2016 marks the 53rd anniversary of the "Learn Thunder" event. To further demonstrate the social responsibility of state-owned enterprises, transfer Xichai Eagle "financial" cultural ideas, to enter since March, Xichai has organized volunteers to go to a nursing home condolences to the elderly, environmental protection mountaineering, Internati Xicheng six major subway action A series of activities; the team took part in the "Learn from Leifeng" role model event in Wuxi, repairing household appliances for Tin City residents, setting off an upsurge of learning about Lei Feng's voluntary service activities, demonstrating the responsibilities and responsibilities of Xichai people, and receiving the responsibility of Xicheng people. Widely praised.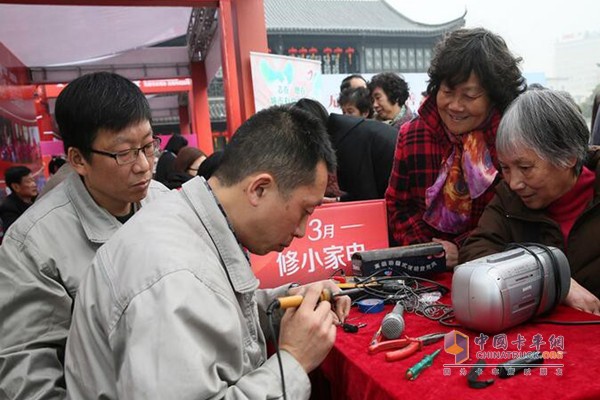 Xichai launches "learning Lei Feng" series of activities
On March 3, 2016, Wuxi City launched the "One Month Theme" in March, "Learn from Leifeng" in March, and the fourth month of volunteer activity. Xichai organized a volunteer team for mechanical intensive training. In the event, the public repaired small appliances such as radios, microphones, and juicers. On March 5th, Xichai volunteers gave up their Saturday break and went to the Guangyi Elderly Care Center to deliver a variety of fruits and other condolences to the widows. Volunteers also visited the Nanchansi subway station, such as the station gate. Helping passengers with their luggage and assisting the elderly to go up and down the stairs; organizing volunteers to go to Huishan National Forest Park to collect plastic bags and other garbage, and establish a good environmental protection concept for Xixi People.
Xichai also organizes Lei Feng volunteers to actively participate in learning Lei Feng activities. On March 3, the "Lei Fung Team's Vehicle Safety Micro Welfare Campaign" was launched to help employees with private cars detect key parts such as tire pressure, antifreeze, brake pads, and headlights to ensure safe driving. On March 4th, the organization organized a "Learn from Lei Feng and Tree Breeze" youth action, organized young scientific and technical personnel to conduct maintenance of electrical equipment in office premises within the department, and clean up office computer waste; organized administrative administration of youth to the factory library to arrange books, etc. .
The launching of the "Learn from Lei Feng" series of activities has further cultivated the excellent character of Xichai people's loyalty, and even more social civilization has gathered powerful positive energy.
OSFE INDUSTRIAL CO.,LTD , https://www.1758cookware.com